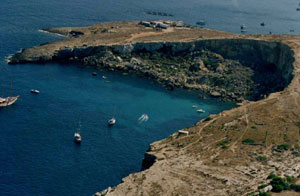 There are no sandy beaches in the area, but good bathing from large, flat rocks or the hotels' seaside lidos. Bugibba has beach bars and there are excellent water sports available in Bugibba, Qawra and Xemxija. The nearest sandy beach is at Golden Bay, 5½ mls from Bugibba.

Bugibba is the main shopping centre, offering the usual range of tourist souvenirs and plenty of supermarkets.

Daytime offers a host of water sports and horse riding in Qawra.

Evenings give us a variety of places to go. Bugibba is the main centre of activity, with discos and karaoke bars, but each area has its own bars and cafes, and the larger hotels hold barbecues and entertainment. A couple of the hotels in Qawra have nightclubs.

All the area is well provided with tourist cafes and simple restaurants. Old St Paul's Bay offers a choice of good, more sophisticated dining.

There are only really two sites to explore in St Paul 's Bay: St Paul 's Shipwreck Church and Wignacourt Tower . St Paul's Shipwreck Church, also known as Church of St Paul's Bonfire was originally constructed 14 th century and stands on the waterfront marking the spot where he scrambled ashore. Grandmaster Wignacourt unsuccessfully attempted to improve its appearance in the 17 th century by making a few alterations that left it neither attractive nor grand. The whole thing was flattened during WWII anyway and what you see today is merely a basic reconstruction.

A short walk around the bay is Wignacourt Tower , erected in 1609. It stands guard over the entrance to the bay, and is one of the largest towers built to defend Malta 's coastline. Not much to look at, the Tower contains two floors and a tiny museum on local history. The view from the top is the Tower's main attraction, with good views of the bay.