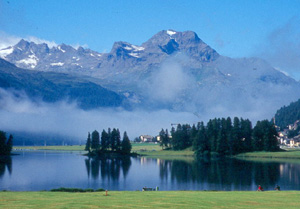 Skiing - Night skiing available.

Snowboarding - Snowparks: 1, Halfpipes: 1

Other Snow Sports - Cross country: 180km, Cross country equipment available, Sleigh rides:

The restaurants are in line with its promotional tag as being "on top of the world" St Moritz does not lack for gourmet fare. A variety of delicious international cuisine is on offer in elegant formal restaurants, romantic rustic rendezvous, chic cafes and snow bars. Even the several pizzerias here are elegant wood-panelled edifices with upholstered chairs where the traditional base and toppings become a work of gastronomic art.

The nightlife consists of a refined relatively new casino is the latest addition to St Moritz' renowned nightlife and entertainment scene, which encompasses close on 30 other nightspots ranging from hot nightclubs to cosy hotel bars, and discos to demure cigar bars.

As far as activities go, anything imaginable that can be done on or in snow and ice is available in St Moritz, whether it be the legendary Cresta Run, bob-sledding, ice-skating, curling or kite-sailing. Of course the main attraction is skiing, with more 217 miles (350km) of snow-covered runs. All ski slopes are serviced with restaurants, ski huts and snow bars ensuring that après-ski is just as much fun as the physical thrills.

Glacier Express : Advertised as the 'slowest express train in the world', the Glacier Express is also the most panoramic, and is a breathtaking way to experience the magnificence of the Swiss Alps. The seven and a half hour journey begins daily from Zermatt. The red mountain train crosses more than 291 bridges, winds its way through 91 tunnels and seven valleys and over the 6,670ft (2,033m) Oberalp Pass to the resort of St Moritz, in a spectacular feat of mountain engineering. The train is equipped with large windows for clear viewing and the scenery, including mountain panoramas, quaint villages and wooden chalets, forests and alpine pastures, is stunning. A dining car provides lunch and the mini-bar contains tilted wine glasses to counter the lean of the carriages along the steep mountainous route. The train can be taken in either direction, and if time is short it is possible to travel along a short section of the route, but either way it is advisable to make advance bookings as the train is very popular. There are several departures a day during summer and one a day in winter.