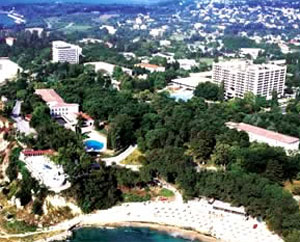 The beaches are a series of golden sandy coves and longer stretches backed by some wooded, rugged slopes; the main concentration of hotels slightly above and behind are served by a promenade. To promote boating and water sports, there is a marina and breakwater at the S end of the beach. The generally placid sea and gently sloping beach are ideal for safe swimming and coastguards patrol the beach.

You will find that entertainment in the daytime offer little to occupy young children, other than the beach, the local public pool, tennis courts or cycling.

Nightlife gives a quite low-key and unsophisticated array. This tends to be centred in various hotel bars, principally Grand Varna's bar, nightclub and casino. Hotels Palace and Marina, situated in Sunny Day Resort, offer less convenient alternatives for those not staying on the complex. The most popular venues are frequented by a sprinkling of prostitutes from Varna ? a fact of life in these coastal resorts.

A few restaurants and snack bars scattered around the resort but not a great deal outside the major hotels. Menus are disappointing by Western standards but usually very good value. Staples are pork and veal, with chicken when available, accompanied by various rich gravies. Rice and tinned mixed vegetables are the most common side orders.