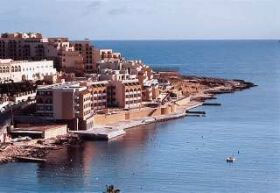 The best swimming in the area is at St George's Bay, mostly from the rocks, but there is a narrow, sandy beach. Water sports are readily available, one side of the bay is dominated by a good lido, popular with the younger crowd and having all facilities.

Paceville is Malta's nightlife capital and the buzzing centre of St Julian's. During the day, Paceville looks shabby and run down, only to come alive after dark, when the streets pack with cars and throngs of young people hit the bars and clubs. High-rise apartment blocks rise out of what becomes a mass of alcohol and testosterone, great to roll home to at the end of a late night but not so great if you want to hit the sack at a decent hour.

Entertainment in the daytime is like the rest of Malta mainly water sports, bowling and horse riding.

The largest selection on the island, from kebab take-aways, burger bars and ice-cream parlours to elegant, intimate gourmet restaurants. Fish is a major dish of this area as it used to be a major fishing port, however, although much fishing does still go on, many of the boathouses have been turned into restaurants to accommodate the ever-increasing tourist numbers.

Local excursions are the same as those listed under Valletta.