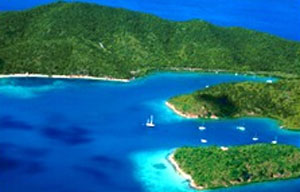 Enthusiasts wishing to explore the myriad islands scattered around the territory can hire sailing boats or powerboats, with or without a skipper, either for afternoon or evening trips or for an all-inclusive week on a charter yacht. A list of operators can be obtained from the US Virgin Islands Department of Tourism (see Contact Addresses section). Boat races take place all year round, including the Rolex Cup Regatta (on St Thomas) and the Mumm's Cup Regatta (on St Croix). Guided kayak tours through St Thomas' Marine Sanctuary and Mangrove Lagoon provide the opportunity to see egrets, herons and other wildlife.

Watersports:

The US Virgin Islands are an established diving and snorkelling destination with well-developed facilities. Coral reefs, warm and calm seas, a rich marine life and excellent visibility are the main attractions for divers of all abilities. Beginners without certification may enrol on an open-water training course (usually completed in three days). However, local instructors recommend learners to complete basic pool work at home and finish their four open-water dives after arrival. The diving season is busiest from December through April, when advance booking on dive packages is recommended. Some of the best dive sites include Buck Island Reef National Monument (a protected area on St Croix with markers describing marine life); Salt River Canyon (one of the most popular sites, also on St Croix); Carval Rock (for advanced divers, on St John); Andreas Reef (on St Thomas, known for its variety of tropical fish); and Submarine Alley (an advanced dive site, also on St Thomas, with large coral islands).

Fishing:

Sport fishing is excellent, particularly for blue and white marlin, sailfish and wahoo, with the North Drop (accessible from St Thomas or St John) being the best-known spot. Sport fishing charters with experienced skippers are widely available. Local fishermen are keen to encourage the 'catch-and-release' method in order to preserve fish species. Fishing competitions, such as the Bastille Day Kingfish Tournament or the Open Atlantic Blue Marlin Tournament attract amateurs and professionals from all over the world.

Other:

There are two 18-hole golf courses on St Croix, at Carambola Resort and at Buccaneer Hotel. A 9-hole course is located at the Reef. St Thomas has an excellent 18-hole course at Mahogany Run. There are many tennis courts available on St Croix and St Thomas and a few on St John. Horseriding is available in Frederiksted and Christiansted on St Croix.