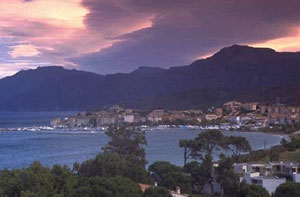 During the daytime typical holiday activities are based around the the beach and water sports, including diving, sailing, sea scooters and kayaking, paragliding. Other activities include cycling, tennis, horse riding, exploring the old town, including the citadel, church and cathedral, or simply strolling along the quay and ogling the yachts.

There are many local shops, these are mainly souvenir outlets and boutiques for tourists, and 1 small supermarket.

The evenings bring a choice of bars, cafes and restaurants on the port and around the central square. During the summer there is a music festival popular with tourists..

There are plenty of relaxing restaurants, including creperies, pizzerias and a few intimate options tucked away in hidden corners. The cuisine is mainly fish and seafood, particularly lobster caught locally, and are frequented by the yachting fraternity. Many Ice-cream parlours are dotted around the town.

Local excursions include full dayoutings including various boat trips, one to isolated "Robinson Crusoe" beach. There are many sight-seeing trips by car of picturesque inland villages.