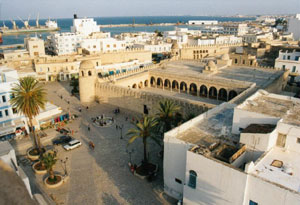 Most of the pleasurable and sporting activities offered in Sousse are beach-based, including fishing, scuba diving, windsurfing and water-skiing.

There are also numerous excursions on offer for those keen on exploring more of the Tunisian coastline. In the town itself shopping and delving into the town's ancient Roman history at the excellent museum are interesting diversions fantastic examples are the 12th- to 17th-century fort (kasbah) with adjacent museum displaying mosaics and the 9th-century fort with adjacent mosque. Camel and horse riding.

Nightlife in Sousse has its seamier side with several seedy dives where prostitutes are on offer along with the beer. If in doubt before entering any club or bar question the doorman or take a good look. Nightlife generally for tourists is confined to the apartment resorts and hotels, which offer dancing and entertainment.

Young Tunisians tend to gather on the beach promenade after dark. It is a reasonably lively resort in the summer and fairly low-key in winter. The main choice of bars and cafes are in the resort centre. More sophistication, live shows and nightclubs in the larger hotels

Visitors to Sousse are spoilt for choice when it comes to dining out, with a variety of options available from pizza and tapas to French cuisine, but most rave in particular about the popular local staple dish. A broad choice of simple cafes and friendly restaurants serving traditional regional fare and international cuisine.

Many visitors have complained that shopkeepers in the Medina are overbearing, and even frightening, in their persistence.