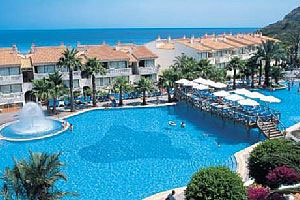 The long beach at Son Bou has a good selection of watersports facilities, including pedaloes, banana boats and canoes etc. But please be aware that due to strong off shore undercurrents, a warning flag system operates which must be observed at all times.

The daytime offers little to distract attention from the beach. There are the Ruins of a Christian basilica at top end of beach. A must to see and do in the day and evening for children of all ages is the "Laberinto" or giant maze. This massive wooden structure is about the size of a small football pitch, and I defy anyone to solve it in less than 45 minutes. During the day you have to collect various coloured fish and stamp a game card with the letters M A Z E, whilst being "rained" upon by a sprinkler system. During the late evening the "game" becomes a little more sinister by the threat of being chased by either a swamp monster or ghost. This may be perhaps a little too scary for the very young, but for anyone over the age of 8 a real must do!

Next to the maze, but under separate management, is a couple of small water slides. Although the attraction isn't very large, it certainly has two very fast flumes. Entry is free, and then you just pay-as-you-go.

The evenings offer some lively bars with a disco opposite called the Club Royal.

The typical tourist and fast food restaurants are scattered all along the seafront. Pim Pam Pum is a new restaurant in Son Bou, and is a good choice for families with young children. Casa Andres is opposite the Sol Hotels Milanos and Pinguinos is very popular so you may need to book. Cafe Son Bou overlooks the traffic island on the way to the Son Bou beach is very popular with families. Very popular with the young is the Copacabana disco bar. It has live shows and a fantastic terrace overlooking the beach

The Fiesta of Sant Llorenç is not the only event in the Alaior cultural calendar. Earlier in the year, commencing on the Thursday immediately after Ash Wednesday, through to the following Tuesday, which is also known as Carnival Tuesday, sees the Alaior Carnival. The event centres around a local man called Bernat Figuerola, who according to local legend, was a cobbler who left the town to seek his fortune in America.