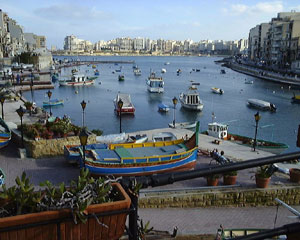 The beaches are all along the seafront promenade and are all very wide, flat golden rocks with access to the sea.

A large restaurant and beach bar is sited halfway along the beach and near it are large, shallow rock pools good for children. Some hotels have private lidos and here water sports are available to the public. For those who must have a sandy beach, there is a small strip where Sliema meets St Julian's.

Daytime offers mainly water sports.

Nightlife is a mixture of bars, ballroom dancing, cinemas, nightclubs and floor shows (in hotels).

If you want to eat out a wide choice can be found, from burger bars to gourmet restaurants. Choose from French, Italian, Chinese, Indian, Russian, Turkish and vegetarian cuisine.

Local excursions are the same as those listed under Valletta.