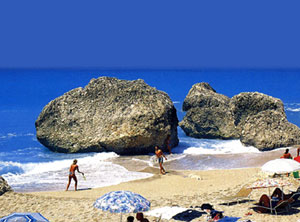 During the daytime beach life and water sports are favourite. You can go on organised night-time "turtle watches", trips to historic sites, including Roman ruins with lovely mosaics and, 1 ml out of town, a 7th-century-BC temple of Apollo.

There are a round 3 mls of sand and shingle, with large white pebbles scattered around, this gently shelving into the sea, there are plenty of sun umbrellas and sunbeds for hire as well, but these could be considered expensive. The beaches also have good water-sports facilities in high season.

Evenings offer a good choice of bars and tavernas, including music bars and late-night options, Greek evenings, there is also an open-air nightclub outside town, on road to Poros.

There is a big choice of tavernas and cafes offering the usual fare, a mixture of Greek/Anglo cuisine, pasta, pizza, British breakfasts and fish.

Full day excursions consist of island tours, including Drogarati Cave and Melissani lake grotto; tour of the S villages, including St George's castle, St Andreas monastery and a winery; Greek night at an Argostoli bouzouki club; boat trip to Poros and Ithaca; marine wildlife tour; boat and coach trip to historical site and museum of Olympia on the mainland.