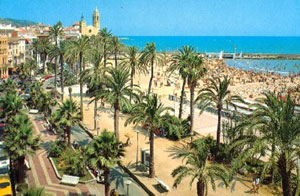 The main beach is a long series of curved bays formed by man-made rock breakwaters with a few circular rock platforms for fishing and sunbathing. It does not shelve and is composed mainly of fine golden sand mixed with some pebbles; narrower to the SW.

The section nearest the old town can get very crowded with day-trippers, especially at weekends. Fully equipped windsurfing school; sailing school at the small marina at the NE end.

Virtually all kinds of shops are present here, from antiques to beachwear. Plenty of chic boutiques, shoe shops and stylish interior-design shops. Good buys include pottery, leather, cava wine and metal ornaments (there is a tradition of ironmongery and metalwork). Indoor market for fresh local produce.

During the day there are a handful of museums including art museum with pictures by Picasso and El Greco. Take a walking tour of town, taking in the exclusive villas and mansions. The water sports including swimming, scuba-diving, sailing, windsurfing and water-skiing. There are non water related sports too, such as beach volleyball, golf, horse riding, tennis, bowling alley, walking/hiking trails, cycling and rollerblading.

The night times are very lively, with nightclubs (some open till 6 am and including a seafront open-air option), discos, plentiful music bars, pubs and cafes, particularly on the Carrer Marques de Montroig, which leads down to the sea front from the centre.

Food options include Italian and Chinese, though mostly local with plenty of tapas and a number of top-class restaurants serving Catalan specialities.

Half day excursions include Montserrat; Cistercian monasteries; Tarragona (UNESCO World Heritage site); walking trails in Garraf National Park.

Full day excursions incude the vineyards where "cava" (Catalan champagne) is made; Barcelona; Andorra; Port Aventura (Universal Studios Theme Park).