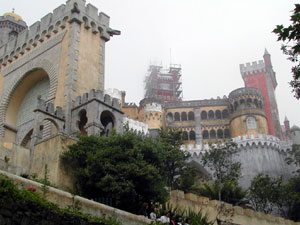 Most tourists are drawn to Sintra for sightseeing, and there are plenty of historic buildings and museums to fill a busy itinerary. Sintra also offers all that is necessary for a seaside holiday, its golden sands, clear Atlantic waters and magnificent coastline ensuring it is a real fun-in-the-sun pleasure spot.

Restaurants tend to keep their offerings local, often with international overtones. Some delicious specialities of the region to look out for are Negrais suckling pig, Merces pork, roast kid, bass and shellfish of all sorts. Classical, comfortable dining is offered at Tacho Real on the Rua de Ferraria, for "haute" Portuguese fare it is hard to beat the luxurious ambience of the Palacio de Seteais, and another recommendation is the rustic Refúgio da Roca on Estrade do Cabo da Roca, Colares. Of course Sintra does have a McDonalds too!

Best beaches are Sao Juliao, Magoito, Macas, Grande and Adraga. There are opportunities for a host of water sports, with surfing and fishing being the most popular. The clifftops provide perfect platforms for paragliders. Golfers are also drawn to Sintra to the Estoril-Sol Golf Club, which lies at the foot of the Sintra mountain range. Although only a 9-hole course it is sought after for its beautiful forested setting.

In the daytime many go exploring the town's winding lanes, cobbled streets, charming gardens and plethora of impressive historical buildings.

Visit the National Palace with its distinctive conical chimneys.

The romantic hilltop Pena National Palace and Park, built in the 19th century on the remains of an old monastery is also a sightseeing must.