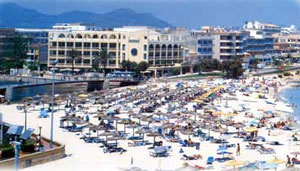 The beach at Sa Coma is exceptionally sandy , nearly half a mile long. The neighbouring one of Cala Moreya, in a bend of the coastline, is much smaller but also good.

There is no real shopping centre, but the size of the combined resort is small enough for this not to matter. Concentrations of shops and restaurants are found in Cala Moreya, another at the N extremity and a third, conveniently, near the mid point. No specialities but a selection of tourist bric-a-brac, boutiques and jewellery shops. Friday market in Son Servera; Tuesday in Arta.

During the daytime beached based activities along with windsurfing and other water sports, outdoor tennis club and relaxing horse riding.

Night activities include a spacious disco in the town, but also another state-of-the-art, outdoor "Nite City" just outside.

As with most of the resorts on this island German and British pubs compete for the patriotic trade. The typical fast food chains are here also, along with ample if predictable resort-type restaurants.

Local excursions can be taken to the Caves of Drach, and Hams, there is an African Safari at Cala Millor, a tour around the interesting old town of Arta, the pearl stores of Manacor.

A day trip to Alcudia, Pollensa and Formentor can all be organised locally.