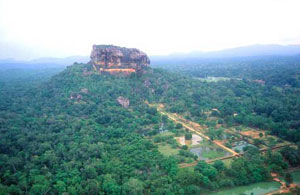 Located in Kandy, an ancient religious centre for Buddhism, the octagonal, golden-roofed Temple of the Sacred Tooth is by far the main tourist attraction in the area. It was built between 1687 and 1707, and is a stunning sacred temple, which is believed to house the left upper canine of the Lord Buddha himself. According to legend, the tooth was taken from the Buddha as he lay on his funeral pyre and smuggled to Sri Lanka hidden in Princess Hemamali's hair, where it survived numerous attempts to capture and destroy it.

The tooth was brought from Kalninga in India during the fourth century by Princess Hemamali and Prince Danta on the orders of the princess's father, King Guhasiva; he was worried that the relic might fall into the hands of his enemies and so, in order to safeguard it, he gave it to King Kirti Sri Meghavarna (AD 301-328) of Anuradhapura. Today, this famous religious relic attracts white-clad pilgrims, bearing lotus blossoms and frangipani, every day. The temple is joined to the Pattiripuwa (Octagon), built in 1803, which was originally used as a prison, but now houses a collection of palm-leaf manuscripts.

There are many other attractions in this ancient city, including Natha Devale , a stone sanctuary and the oldest building in Kandy, and Mahavishnu Devale , a temple which is dedicated to Vishnu, the protector of Buddhism in Sri Lanka

There are one or two souvenir stalls only, selling Buddhist artefacts, spices, fresh fruit and vegetables on the roadside.

All the entertainment is purely hotel based.

All the restaurants are also hotel based, but a couple of small shack-type eateries for daytime snacks can be found in the streete.