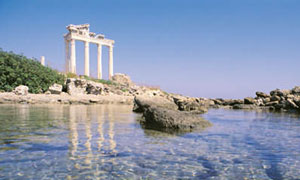 There are numerous restaurants near the marina where you can enjoy fish straight from the boat. One of these is Orfoz, which serves both Turkish and international cuisine; another is Soundwaves Restaurant. You can sample kebabs, pizzas and various international dishes at Yakamoz in Titreyengöl before dancing it all off at their disco. Another restaurant with a dance floor is Bill Cosby in Kumkoy, a lively Turkish restaurant serving traditional food.

An excursion to Kursunlu waterfalls makes a refreshing change from the heat of the beach, and the Manavgat waterfalls and river are close by and well worth a visit.

The beaches are long and wide, which extend for mls either side of the old town, dipping gently down to a shallow sea, making it very suitable for children. Coastguard stations are positioned at fairly regular intervals along the beach.

Shopping in the old town, it's "open all hours" for carpets, jewellery, leather, brassware and all kinds of trinkets. As usual, browsing is near impossible on account of the constant hard-selling techniques of the hawkers. You will see why the Turkish are known as a society os shopkeepers.

The daytime boasts a well-preserved 2nd-century amphitheatre, with a capacity of 15,000, the Temple of Dionysos, the Palace of the Emperor and the Temples of Athena and Apollo. Also some historic Museums.

The nightlife is scattered far and wide through the resort hotels, but liveliest in the old town where there are several nightclubs and music bars.