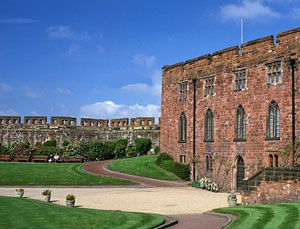 Popular attractiosn include:

Shrewsbury's Shuts and Passages - a unique maze of narrow alleys which criss-cross the town centre - part of the town's medieval street plan.

Statue of Charles Darwin outside the library - he was born here in Shrewsbury and attended Shrewsbury School which was then housed in the library buildings.

Attingham Park - a Regency gem. Splendid hall and deer park, now in the tender care of the National Trust. Costumed guides, family activities, fine furniture and paintings.

Home Farm, Attingham - a short walk from the Hall is this working farm with plenty to discover about real farming. Hands on activities, small animals and rare breeds.

Wroxeter Roman City - earlier even than Shrewsbury itself. The ruins of the fourth largest city in Roman Britain. English Heritage have thoughtfully provided an audio tour and exhibition on site to tell you all about it.

Shrewsbury Abbey

Shrewsbury Castle

Shrewsbury Museum & Art Gallery

Shrewsbury Castle and Shropshire Regimental Museum

Cruising on the River King - from Victoria Quay in summer

Under your own steam - rowing boats and canoe hire from the Porthill Bridge in The Quarry

Watching other people do the work - Shrewsbury Regatta, two days of competitive rowing

Angling - there are plenty of fish in the river - but you'll need a licence to do this.

Strolling by the water - walks along the towpath loop right around the town and out into the countryside. Follow in the footsteps of the young Charles Darwin . He liked messing about by the river.