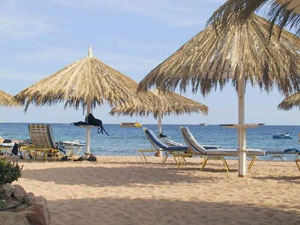 Daytime activities tend to revolve around the beaches and the world renowned scuba diving and snorkelling. There are myriad water sports and beach activities, camel rides, horse riding, quad bikes and bicycles for hire. There is golf at the 18-hole Movenpick course. Most large hotels have organised entertainment programmes just ask on arrival.

Nightlife offers live entertainment in most hotels, which also have discos and live music in bars and built in casinos.

There are plenty of restaurants of all international persuasions, including Chinese, Korean, Japanese, Italian, French, Egyptian and many more. These are mostly hotel based, but also in both centres, along the beaches and the main roads. No shortage of snacks and light meals, including several chain eateries and a McDonald's at Naama Bay.

You can travel to several places in the Sinai Desert, including St Catherine's Monastery (reputed site of the Bible's burning bush) and Mt Sinai (source of the 10 Commandments). Take desert safaris and camel treks. Enjoy a "Bedouin Night" with meal. Visit the Ras Mohammed National Park, Take a cruise to Tiran Island or maybe an overnight trips to Cairo or Luxor.