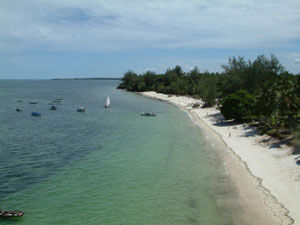 Daytime offers numerous amounts of water sports, including scuba diving, snorkelling, glass-bottomed boat trips to the coral reef and sailing.

In the evening you will find hotel discos, some bars in Shanzu shopping centre, mostly frequented by the local prostitutes and their clients, although the atmosphere within isn't intimidating.

For meal times you are limited to a German bar (bratwurst and sauerkraut), an outdoor Kenyan roast-meat grill and a creekside snack bar serving seafood. It is not advisable to drink the local water stick to the bottled varieties. Most eateries are contained within the hotels.

The local excursions are generally the same as Mombasa, with organised tours picking up at hotels.