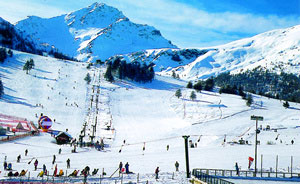 Sestriere has a reputation as a resort for the Italian jet set, as it hosts the Alpine Skiing World Cup every year. However, outside those few days, it has appeal for most types of keen skiers wanting modern resort facilities rather than quaint alpine villages (though these are situated nearby). Its unusual mountain-top position means that it is much more open, sunny and less claustrophobic than the more common valley-floor villages, so may be better for nonskiers.

Facilities on the slopes consist of:

Skiing - Night skiing, Heli skiing, Torchlit descents.

Snowboarding - Snowparks: 1, Quarter pipes: 1.

Other Snow Sports - Cross country: 15km, Cross country equipment available, Snow shoeing, Snow shoes available, Skidoos.

Sestriere itself has 7 main lifts (mainly drag), which are arrayed along the SE edge of the town. Skiers also have access to the 92 lifts of the Via Lattea (the regional ski-network), comprising 3 cable cars, 35 chair-lifts and 54 drag-lifts. Via Lattea's 10 ski-schools have a total of 600 ski-instructors, a fair proportion of whom speak English. Sestriere's main ski-school is at the bottom of the "Baby" drag, with another near the back of town. The ski-pass covers the whole of the Via Lattea.

For the shoppers there are loads of outlets of all types around the Piazza Agnelli, along Via Pinerolo and in the pedestrianised Piazza Fraiteve, plus the odd local shop elsewhere.

The daytime boasts all types of skiing, including off-piste heli-skiing; paragliding; skidoo hire; dog sledding; ice-skating and snow park. An American Sports Centre offers squash, massage, solarium, gym etc. In summer the resort can offer Europe's highest 18-hole golf course.

The nightlife is not that wonderful for an allegedly jet-set resort, it consists of 1 disco but plenty of bars with music, and flood-lit skiing.

There are plenty of restaurants all over town and all serving Italian cuisine, pizzas etc. Also adequate cafe bars can be found on the pistes.

Accommodation consists of over 20 hotels and apartment complexes, mainly in the 2- and 3-star range. Most of the better-quality 4-stars are run as "club hotels" like Club Med and its Italian equivalent. The best of all, the Principe di Piemonte, sits splendidly aloof from the rest on the piste side of town, but is not used by tour operators. Some accommodation is also in nearby old valley hamlets like Borgata.

Local excursions are very few and far between. Privately arranged trips to other resorts are about the only options.