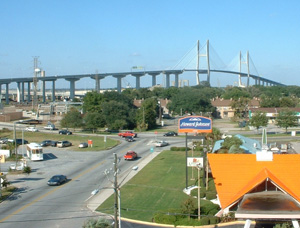 One can wander past stately mansions and sip mint juleps under moss-covered oaks as you soak up Savannah's old world grace, kept very much alive in the city's historic district, one of the largest preserved historical urban areas in the United States.

Apart from hundreds of architecturally significant buildings Savannah is also not short on restaurants, shops (particularly fine antique stores), Civil War forts, museums, art galleries, parks and nearby beaches. The city has a well-earned nickname as 'the Hostess City of the South'.

Aquarium at Skidaway a Window to the Sea

The Aquarium at Skidaway Island is part of the University of Georgia Marine Extension Service, which offers a variety of educational programs and services to inform and enrich the public's knowledge and appreciation of coastal and marine life in the Lowcountry.

Museum Pays Tribute to Ships of the Sea

Though we might imagine that people throughout history who have spent their lives on seafaring vessels have done so because of the great love for the water, visit the Ships of the Sea Maritime Museum and see that there is something more to it. To paraphrase a sentiment from the diary of one 19th-century sailor, "It's not the sea we're in love with, it's the ships."

Trek the Azalea Trail

Savannah is beautiful all the year round, but one time in particular is not to be missed. The month of March, during which much of the country begins to dig itself from beneath the heaped mounds of snow that cover its doorsteps, automobiles and feet (into which the feeling is just beginning to return), is the time when Savannah begins to bloom.

Colonial Cemetery Home to Dueling Duo

Colonial Cemetery, located at the corner of Oglethorpe and Abercorn streets, is Savannah's oldest city burial ground and contains monuments to some of the colony's most notable figures.

Get Acquainted, via Gray Line Tours

The pleasures of Savannah are too numerous to count, but a good way to become acquainted with our lovely city is to take a tour with Gray Line of Savannah.

Fulfill Your Need at Hardeeville Motor Speedway

Have you ever dreamed of gripping the steering wheel during quick, green-flag racing action -- the throttle to the floor, a 6-point harness securing your body in a competition race car? Or perhaps your need for speed is modified by your desire not to meet South Carolina's finest highway patrolmen? You should visit Hardeeville Motor Speedway, which is the South's newest and most exciting asphalt track to fulfill your racing urges.

Golf's Carefree at Sapelo Hammock

If you're a golfer, whether of the pro caliber or a fellow who doesn't mind tromping through the rough in search of a lost shot, there is nothing finer than to gather a few good friends and head out for a morning, an afternoon or a whole day of golf where no one can find you. No distractions, just a good course with lots of lush landscape, not to mention a few challenges ... something like Sapelo Hammock.

Savannah Rich in River Lore, Too

America has a tremendous mythology surrounding the river. Mike Fink was a two-fisted Ohio River flatboat operator; Huckleberry Finn used the Mississippi to find a new life; even Gen. Custer took a boat up the Missouri River on his way to Little Big Horn. James Oglethorpe came up the Savannah River in 1733 to found the colony of Georgia.