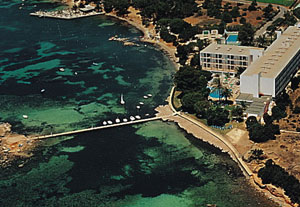 The daytime offers water sports, including parascending, otherwise activities are limited to hotel entertainments.

At night there is virtually no activity outside the hotels except a few bars with music, more activity in a short trip to Santa Eulalia.

There are very few restaurants in the immediate area, 1 or 2 local-style restaurants on the main road, otherwise choice is limited to snack bars.

A reliable bus service from the main road to Santa Eulalia and Es Cana, running almost every ½ hr until late evening. Taxis from Es Cana or Santa Eulalia available by phone.