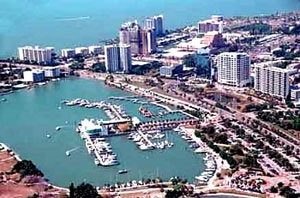 Sarasota contains some of Florida's best public beaches. Lido Beach is a 2-ml stretch of soft white sand, lifeguards on duty at various points.

The beaches on Longboat Key are less accessible to the public, as many are closed off by the large swanky condominium complexes fronting them.

Siesta Key boasts mls of fine white powdery sand beach on its W coast, most of which is public. They still talk about winning the 1987 "International Sand Contest" against several exotic Caribbean destinations.

Daytime offers several public and private golf courses. Two hotels, the Colony and the Resort at Longboat Key Club, have exceptionally good tennis facilities for guests. Public swimming pool with changing facilities, food and bar opposite the main beach at Lido Beach. Deep-sea fishing charters leave from Sarasota's bayfront marina, concessionaires offer water sports, including jet-skis, windsurfing, parasailing, small sailing craft, kayaks and aquacycles.

At the S end of Lido Beach is S Lido Park with picnic sites and a nature trail. Circus Sarasota performs each weekend during the winter season

Nightlife on the island resort areas, is usually limited to dining out, often in the open air. A good selection of restaurants can be found at St Armands Circle, but relatively expensive, as is downtown Sarasota. Taking an after-dinner stroll or window-shopping. More life with clubs, bars and discos in downtown Sarasota.

Local excursions include:

The John and Mabel Ringling Museum of Art,

the sculpture garden,

its genuine Italian Asolo theatre and the circus museum in its lovely grounds.

Marie Selby Botanical Gardens has orchid exhibits; Sarasota Jungle Gardens feature reptiles and tropical birds, a children's play area and petting zoo. Bell's Cars and Music of Yesterday has antique cars and music boxes.

Bay cruises; daytime, sunset or dinner cruises.

The Mote Marine Aquarium has a shark tank, local sea life and 2 manatees in a huge tank for easy viewing.

Pelican Man's bird sanctuary is filled with native and migratory birds.

Cabins and nature trails are available at Myakka State Park, 15 mls SE of Sarasota.