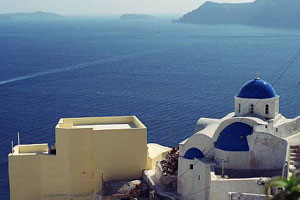 Santorini is popular with all ages and types of holidaymaker, with younger people more prevalent in peak season, especially in Fira and Kamari. Santorini is one of Greece's more upmarket islands, although all budgets can be accommodated. Popular for weddings and honeymoons.

Accommodation is mainly small hotels, apartment blocks and pensions, tending towards middle- to upmarket quality and rates.

Santorini has two swimming beaches, Perissa and Kamari, both characterised by their volcanic black sand. The most popular beaches, which can get crowded, lie on the E coast, offering black volcanic sands, clean water and good swimming, although the sea floor shelves quite steeply, the black sand can become very hot, so sandals are recommended.

Perissa, and the adjoining beach of Perivolos, is a picturesque resort stretching back 2 or 3 mls alongside farmland; this area has a Byzantine church and a couple of Venetian castles to visit.

Daytime offers a variety of beach and water sports, including windsurfing, water-skiing, pedalloes, diving, snorkelling and sailing. Island explorations taking in the ruins of ancient Thira (9th century BC), the monastery of Profitis, Ilias, a Venetian fortress at Pirgos and the ancient site of Akrotiri. Archaeological museums in Fira. And a small water park outside Perissa.

Evenings provide a good choice of bars, discos and nightclubs, especially in Fira. Traditional Greek evenings with dancing and plate-smashing, known as Bouzaki's, plus an open-air cinema at Kamari.

There are more than 300 eateries, offering everything from traditional Greek food to pizza and burgers. International restaurants include Chinese, Italian, Spanish and Portuguese. The local cuise is mainly fresh fish with capers and goat's cheese; "tsikoudia", the local wine, is also worth trying. Tap water is chlorinated and safe to drink but it is in short supply, brought in by boat, and in high season might be cut off.

Shopping in the beach resorts offers mostly practical shops such as supermarkets and greengrocers. A wider selection is on offer in Fira, encompassing clothing, local art and handicrafts, and the usual touristy items; jewellery shops abound, catering to the cruise-ferry market.

Full day excursions consist of a variety of boat trips around the island and to the volcanic islets of Palea Kameni, Nea Kameni and Thirasia; archaeological tour of the island; wine-tasting and sightseeing tour; fishing trips.