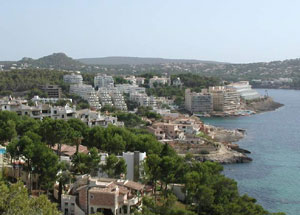 Principal white-sandy beach runs the width of bay and has been considerably extended with imported sand in recent years. Swimming is safe, with generally no strong currents and fairly shallow waters

Although Santa Ponsa only holds one fiesta each year, it is widely acknowledged as being one of the biggest and best on Majorca. The Fiesta of Rei en Jaume has now grown into a two week celebration that usually starts around the 1st of September.

During the day Santa Ponsa and Poniente golf courses offer a great haven for the avid golfer. The area also boasts tennis, water sports including scuba diving (PADI courses), horse riding, football and sports grounds including skateboarding, boat trips and cycling. A very wide choice.

The nightlife in the area is lively, plentiful bars including late-night venues, karaoke, music and themed (Irish and Scottish), and a handful of discos and clubs. A huge Casino with nightclub is found at nearby Magalluf.

Santa Ponsa has plentiful restaurants and eateries serving local Majorcan, Spanish, Chinese, Italian and Indian dishes. Variety ranges from fast-food outlets and kebab houses to a la carte dining with sea views.

The nearest weekly market to the town is held in nearby Andratx every Wednesday morning. Special market buses are always laid on from Santa Ponsa throughout the day, although these are always full by the time they arrive in the resort.

The Aqualand Magaluf, as its name suggests is on the outskirts of Magaluf, is a giant waterpark with death defying slides, thrilling rides for older kids and some tamer ones for the toddlers.

One of the newest attractions in nearby Calvia is the Western Park. It's the combination of both a water park and a wild west theme park, that is really suitable for all the family. During the day there's a number of predatory birds shows going on, a small animal farm, and green lawned areas to relax in.