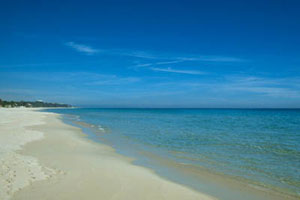 The area is suited to upmarket couples looking for an expensive retreat.

Beaches are the primary feature of the resort, although all hotels have swimming pools and vast sun terraces. The sand is clean and the sea sublime.

Shopping in the area is limited to hotels or excursions further afield. Standard distinctive Sardinian handcraft; ceramics, woven mats, carpets, shawls, scarves, embroidery, lace, pottery, carved wood, coral jewellery, cutlery, cork articles, copperware.

Romantic boat trips, golf, tennis, water sports, horse riding, picnics are all popular activities in the area.

There are almost no restaurants except in hotels. First-class Italian food with some Sardinian specialities, much fish and seafood.

Local excursions can be taken to Cagliari and to some fantastic archaeological sitesin Nora and Burumini which are are exceptional. Exciting islets and grottoes can be visited by boat.