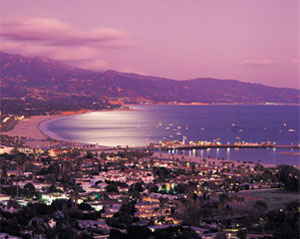 If history is your thing, most of the city's historical sights are conveniently situated in the downtown area and can be seen in a couple of hours by taking the self-guided Red Tile Walking Tour, which begins at the County Courthouse, one of Santa Barbara's most famous landmarks. It even has a long pier accommodating restaurants, shops and amusement attractions.

To the north and south of downtown Santa Barbara, there are numerous narrower beaches ideal for surfing. Near Carpinteria, about 15 miles south of Santa Barbara, Rincon Point is reputedly the finest surfing spot in California.

From the harbor basin in Santa Barbara, you can rent kayaks or sailboats. You can go on whale-watching cruises, on fishing charters or on boat excursions to the Channel Islands nature preserves. You can rent bicycles and pedal cars nearby.

Popular attractions consist of the Museum of Natural History, Mission Santa Barbara, the Santa Barbara County Courthouse, the Botanic Garden, Stearns Wharf and our perfectly charming zoo.