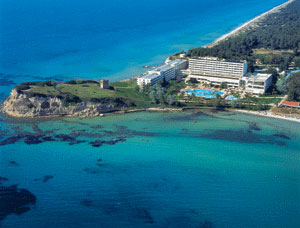 Sani attracts generally attracts middle- to upmarket British and German visitors and is suited to relaxation based holidays with a touch of good scenery and nature. The area is quite remote.

The beach consists of long, stretches of clean, pale sand, lined with sunbeds and parasols.

Water sports available for those not content to soak up the sun or swim in the clean, shallow waters.

Half day excursions and minicruises are popular around the local coastline, exploring some of the inland and fishing villages.

Need to travel for any sort of choice of shopping facilities although some can be found within hotels.

Activities are provided almost exclusively by hotels and include beach activities, tennis, archery, volleyball, beauty treatments and open-air cinema.

Beyond the hotels and some marina-based options, having a meal involves a journey of at least 6 mls.