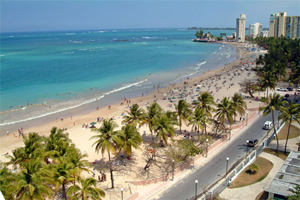 Things to see in San Juan consist of:
El Castillo San Felipe del Morro "El Morro" : is a sixteenth-century citadel that lies on the northwestern-most point of the islet of San Juan, Puerto Rico. It is part of San Juan National Historic Site and was declared a World Heritage Site by the United Nations in 1983. El Castillo de San Cristóbal, (787) 729-6960. A Spanish fort in San Juan, Puerto Rico. It was built by the Spaniards to protect against land based attacks on the city of San Juan. It is part of San Juan National Historic Site. It covers 27 acres of land and is 150 ft tall. Open every day from 9:00AM to 6PM. Palacio de Santa Catalina "La Fortaleza" (or The Fortress in English) is the official residence of the Governor of Puerto Rico, who is Puerto Rico's head of Government. It was built between 1533 and 1540 to defend the harbor of San Juan. The structure is also known as El Palacio de Santa Catalina (or Palace of Santa Catalina). It is the oldest executive mansion in the New World. La Fortaleza was declared as a World Heritage Site by UNESCO. El Catedral de San Juan Bautista: contains the tomb of the Spanish explorer Juan Ponce de León. It was built in the 1520's, soon to be wrecked by a hurricane, and then rebuilt in 1540. After being rebuilt, it was robbed in the late 1500's, and then, in 1615, it was damaged by a hurricane. In 1917, a lot of changes were made to restore the building. Tours are given daily from 8:30AM-4PM. Castillo de San Jerónimo is a small fort located in the entrance to what is known today as Condado, Puerto Rico lagoon in San Juan. The fort defended San Juan from attacks by Sir Francis Drake in 1595, Sir George Clifford "Earl of Cumberland" in 1598 and Sir Ralph Abercromby. Iglesia de San Jose dates back to 1523. This building was originally called the Church and Monastery of Saint Thomas Aquinas. Before Ponce de Leon was moved to the San Juan Catedral, his body was buried here for 300 years. Ayuntamiento or Alcaldia or City Hall. The municipal cemetery of Santa María Madgalena de Pazzis, located just outside the city walls. Fuerte San Geronimo is a fort that was built to tighten defense within the city. There is a small museum inside. Centro de Bellas Artes is the largest fine arts center in the Caribbean. Concerts, Plays, and Operas are hosted here. This fine arts center opened in 1981. Bacardi Rum Factory, also called the "Cathedral of Rum" which covers 127 acres. Free tour, including a trolley ride around the premises. Things to do in San Juan include:

Check out the beaches in Condado and Isla Verde. A popular point of interest is Old San Juan, a 7-block area that has become popular for tourists as well as residents. The narrow streets of old San Juan are packed with people so it is recommended to experience Old San Juan by foot in order to avoid too much traffic. You can take a taxi for less than $20 from most hotels but for .75 you can also take the B21 bus which picks up from many locations near the hotels and is very easy to use. Check out the parks in San Juan. Central Park is the park to visit if you're looking for traditional activities such as jogging, tennis, baseball, etc. La Marquesa Canopy Tour - Located about 30 minutes outside of San Juan in Guaynabo you can tour the La Marquesa Forest Reserve via zip line. It is a low impact experience suitable for people of all ages. Those who are up for extreme adventure travel may find this a little too easy. Munoz Rivera Park, Av. Ponce de León. Tu-Su 9AM-5PM. Located by the ocean and has beautiful trees and landscaping. A great place to tour by foot. Parque de las Palomas overlooks La Princesa Jail. From this park you are able to see a great view of the mountains, harbor and the city. The Casino of Puerto Rico is a large building with a 12 foot chandelier and an open ballroom, built right before World War I. The Teatro Tapia. Built in 1832, this is one of the oldest theaters in the Western Hemisphere. This building, which was named after Alejandro Tapia y Rivera, has been remodeled twice, once in 1949 and once in 1987. Plays, ballets, and other concerts and events are held here.