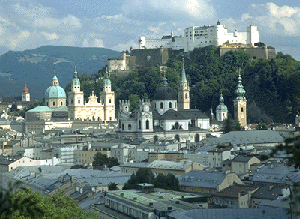 Daytimes can be spent exploring the old town including Mozart's birthplace, the fortress, Getreidegasse, the Residenz (former archbishop's palace) and the 17th-century cathedral; many interesting churches and museums, including natural history, art and toys; Mirabell Palace and Gardens; St Sebastian's Cemetery, last resting place of Mozart's wife and father as well as Paracelsus, the "father of modern medicine"; lift up Monchsberg Mountain for city views; Steigl's "Brauwelt" (World of Brewing), the largest exhibition of beers in Europe; 17th-century Hellbrunn Palace with its gardens and trick fountains; Kapuziner Mountain with its dense forest and variety of flora and fauna; zoo; golf; cycling; river cruise.

Nightlife offers plenty of atmospheric bars (including Irish pubs and some carved into mountains), jazz venues and beer gardens in summer; a few nightclubs (main disco is situated near the airport); casino at Klessheim Castle; many concerts, particularly Mozart; "The Sound of Music" show; music festival in August. Main action is situated along the right and left banks of the river, in the old town and on Linzergasse; concerts take place throughout the city but particularly in the "festival district" around the Festival Halls.

Eating out is chic, intimate cafes to international hotel dining, serving everything from toast to cordon bleu. Choice of cuisine covers Austrian, French, Italian, Chinese, Turkish and much more, although some may take a bit of seeking out. Regional specialities include veal goulash, a variety of dumpling-based dishes and spicy liver sausage. Cafe life thrives and Salzburgers love their cakes ? the famous Sachertorte, "mohr im hemd" (nut souffle with chocolate sauce) and Salzburger nockerl (a simple souffle dusted with icing sugar). Many local beers and wines as well as the local spirit, rowanberry schnapps.

Salzburg has efficient public transport network, consisting of regular, clean, modern buses and suburban commuter trains. Surrounding villages are all linked by several buses a day. Oldest funicular in Austria (1892) goes from the old town to the fortress. Horse-drawn carriages for hire.

For shopping enthusiasts, the main hub is along the picturesque Getreidegasse with its classy clothes, chocolate and handicraft shops; Linzergasse across the river is another popular shopping haunt. Not too many T-shirt or souvenir shops, but wooden gifts, glassware, traditional crafts and Austrian Christmas decorations are on offer at all prices. If visiting in the run-up to Christmas, look out for the city's Christmas markets including the famous Christkindlmarkt on Domplatz.

Most popular attractions include:

Haus Der Natur - You could spend hours roaming around the diverse and well displayed exhibits at the Haus Der Natur (Museum of Natural History), located in the centre of the old city. There are flora, fauna and mineral displays, exhibits on physics and astronomy, a 36-tank aquarium, and a few bizarre oddities such as the display of deformed animals on the 4th floor.

Mozart-Wohnhaus (Mozart's Residence) - Of the two Mozart museums in town, both of which are popular and pricey, this is the better one. The Mozart family lived in this house from 1773 to 1787. Tours include commentary and musical excerpts from handheld devices activated by infrared signals.

Schloss Mirabell - This palace in Mirabellgarten was built in 1606 by the Prince-Archbishop Wolf Dietrich for his mistress Salome Alt, who supposedly bore him 15 children. For her troubles he named it Altenau palace but only to have his successor, Markus Sittikus von Hohenems, rename it Mirabell six years later.

Local excursions include:

Full day:

Austrian Lake District and villages, including St Wolfgang; small, traditional village of Werfen with its impressive fortress and ice caves; Berchtesgaden for castle, gardens and water park; various salt mines including those at Bad Durrnberg and Bad Reichenhall; Untersberg for cable-car ride to mountain top, ice caves and hiking trails; Grossglockner high alpine pass; Krimml Waterfall; former royal summer residence at Bad Ischl; Chiemsee Lake in Bavaria (Germany) with mad King Ludwig II's castle; "whistlestop" visit to Vienna.