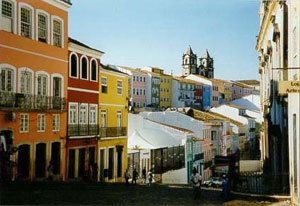 Other notable attractions in Salvador include:

Porto da Barra Beach is amongst the world's best beaches.

The large island of Itaparica in the Bay of All Saints - can be visited either by a car-ferry, or a smaller foot-passenger ferry which leaves from near the Mercado Modelo near the Lacerda Elevator.

Linha Verde, or "green line" of towns and cities, with exquisite beaches, north of Salvador heading towards Sergipe state

Cachoeira in the recôncavo region - 2 hours by bus: a great centre of Candomblé with a pousada (inn) in the convent there.

Morro de São Paulo in the Valença region across the Bay of All Saints - a lively island which can be reached by ferry from Salvador (1 hr), by plane, or by bus to Valença and then by 'Rapido' ('fast') speedboat or smaller ferry. Morro de São Paulo is formed by 5 villages of the Tinharé Island.



The city is served by many shopping malls: Aeroclube Plaza Show, Caboatã Shopping, Casa Shopping Cidade, Out Let Center, Salvador Shopping, Shopping Baixo Dos Sapateiros, Shopping Barra, Shopping Boulevard 161, Shopping Brotas Center, Shopping Center Iguatemi, Shopping Center Lapa, Shopping Do Pelô, Shopping Imbuí Plaza, Shopping Itaigara, Shopping Orixás Center, Shopping Piedade, Shopping Sumaré.