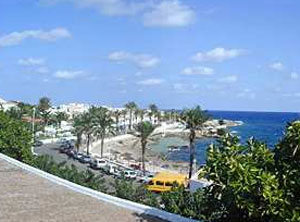 There is a lido-like cove with rock bathing and furnished terraces of imported sand by the pool in front of Hotel S'Algar. Holiday needs are served by a couple of supermarkets, souvenir and car hire shops. in the daytime windsurfing and diving at the local lido, a sports club with tennis, football, bowling, minigolf, gym and sauna are the main attractions. A diving school for the more adventurous is also available. Nightlife is limited to the hotels and a karaoke bar, a disco opens only in the peak season. The few options are predictable and very ordinary.

The S'Algar restaurant may look to be very expensive, but don't be put off because the prices are in very reasonable. Las Palmeras specialises in pizzas and grilled food on the BBQ. El Pirata is always a good place for a drink and snack. Reina Isabel is the best place for a full English breakfast. The Dinky Bar is the place to visit for one of their many varieties of cocktails.

Most unusual for a resort in Menorca, S'Algar lacks a good beach. The nearest thing here is a narrow strip of imported sand in front of the hotel S'Algar, other than that it's a 15 minute stroll to the cove at Cala Alcaufar, and although very picturesque, it has to be said that this is not one of the best beaches on Menorca. Cala Alcaufar is really a long narrow inlet, around which there are a number of traditional fishermen's cottages, and more recently a handful of luxury villas. However, in all fairness it is an ideal place if you have small children as they can play quite safely.

What really attracts people to S'Algar is possibly the best sporting facilities on the island, and with a choice of windsurfing, tennis, and horse-riding at the Club Hipic Es Beoret, there's usually plenty to do even for the most active families. Quite strange for Menorca, S'Algar also has seven lawn bowling greens and a number of places where you can hire woods.