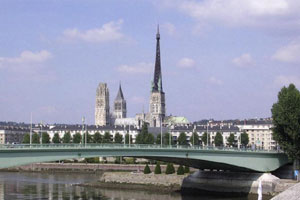 Rouen is an interesting city to stopover for a night or two, mostly suited to middlemarket tourists, hence the conventional 2- and 3-star hotels, mostly on the cathedral side of the river.

During the daytime, strolls or minitrain tour through the old town are popular. Visit a wide range of well-endowed museums, including fine arts, ceramics and archaeology, plus the Joan of Arc Museum, numerous Gothic churches, including the cathedral, offering fine examples of stained glass; monuments including the Gros-Horloge belfry, arch and clocks, Joan of Arc tower and 11th-century Jewish Monument, swimming pools, ice-skating rink and bowling are all available.

Nightlife offers a variety of bars, including piano and music bars, mainly around the port and the old town, a few nightclubs and theatres including Theatre des Arts for opera, ballet and concerts and a couple of cinemas.

Wide choice of restaurants are available serving mainly rich Norman cuisine, with cream, butter and Calvados sauces. All seem to be at reasonable prices. Abundant fresh fish. Handful of international eateries, including Italian. Patisseries and cafes plus a couple of self-service dining options. Local specialities include Rouen pressed duck (involves strangulation to prevent blood-letting, then blood is extracted from partially cooked bird and used for the sauce), tripe cooked with ox feet, onions, carrots, herbs and cider.