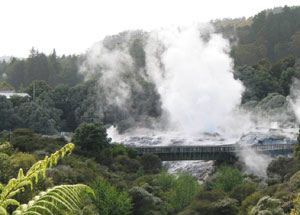 The area is rich in Maori history, and as the original settlers, Maori were attracted to the hot thermal waters for bathing and cooking.

Around Rotorua, the upheavals of old have left craters transformed into shimmering lakes surrounded by native bush, large ferns and farmland. These lakes provide an abundance of trout for keen fishermen, walking tracks in the surrounding bush and the opportunity for many water sports.

Bubbling, boiling mud pools, beautiful coloured lakes, sulphur cliffs and magnificent spouting geysers are readily accessible to visitors at Waiotapu, Waimangu and Whakarewarewa Thermal Reserves. A visit to the massive crater of Mt Tarawera and the nearby excavated Maori village are also fascinating excursions.

Generations of visitors have enjoyed the healing, soothing waters in the thermal pools. The Polynesian Spa featuring thermal waters is a popular bathing spot and many hotels also have their own pools. The Grand Tudor style Bathhouse near Lake Rotorua had its heyday early this century and now houses the local museum and art gallery. It is situated in the pretty Government Gardens.

Many native birds are on display in the free flight aviary but the highlight is viewing New Zealand's endangered national icon - the Kiwi. At Rainbow Farm don't miss the only honey bee display in Rotorua or take in one of the five Farm Shows held each and every day.

World-renowned Whakarewarewa Thermal Village is a unique mix of Maori culture, art and thermal wonderland. A tour around the village takes visitors among bubbling mud pools and thermal takes, View the famous Pohutu geyser, meander amongst the art and crafts on offer and enjoy Maori song and dance at daily concerts.