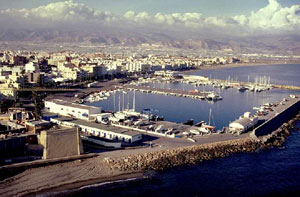 The beach is a long, attractive, fairly wide and gently shelving stretch of coarse, light sand, narrower towards the SW end of the resort. Waves can be strong, though swimming and water sports are popular, including windsurfing, jet-skiing, pedalloes, sailing and surfing.

Most of the beach is public, though many hotels have private sections with sun loungers and deck chairs for hire. Lifeguard on duty during high season. Has earned a European Blue Flag for cleanliness and safety.

Daytime offers a sports centre and public golf courses in vicinity. Go-karting, surfing, sailing, and various motorised water sports. There are nautical clubs, cycling hire, and a children's funfair.

Nightlife gives a plethora of open-air cafes, pubs and bars, including Irish and Scottish ones. A few discos and nightclubs, a couple of casinos in the larger hotels.

Many hotels also offer programmes of evening entertainment, including live music and local shows. Generally a more relaxed, low-key atmosphere compared with other more developed Spanish resorts

There are a good selection of restaurants to suit all tastes. Many choices including fish, pizza, Chinese, local fare (with "menu of the day" dishes on offer) as well as the ubiquitous "everything with chips" fodder. "Tapas", small samples of food eaten with wine or beer before the main meal ? is typical of this area.