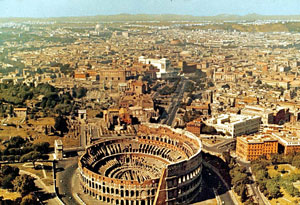 It may sound like a city of contrasts, but Rome's timeless magic lies in its ability to blend the old with the new. Empires have risen and fallen, old gods have been replaced with new ones, but Rome remains.
Once visited, you'll never forget Rome's incomparable architecture, the ancient peeking out from behind the modern, yet all rubbing along in some kind of rough harmony. Particularly striking is the awesome sight of the partially ruined Colosseum in the distance at the end of a wide, traffic-choked road; the glorious Trevi Fountain tucked away in a square dotted with souvenir shops; and St Peter's and the Vatican set snootily aloof across the river in a country all of their own.

Rome is a vast city, but the centre is actually quite small, considering how many layers of history are packed within it - Etruscan tombs sit alongside Republican meeting rooms, Imperial temples overlook early Christian churches and mediaeval bell towers, Renaissance palaces and baroque basilicas all share the same piazza.

More than any other capital city in western Europe, there's an amazing concentration of monuments and buildings here, but unlike, say, Venice, Rome is a living city rather than a museum piece.

Via del Corso runs north from the Forum to Piazza del Popolo, with the Spanish Steps and the Trevi Fountain just to its east.

The Vatican is north-west of the Forum, across the River Tiber. Fiumicino airport is south-west of the city, while Ciampino is south-east.

Stazione Termini is just northeast of the Palatine Hill and the Forum. The main bus station is just outside Termini.

Don't even think about trying to drive round - Rome's reputation as the traffic-jam capital of Europe is perfectly justified, even despite recent attempts to pedestrianise the centre.

Take a bus if you must and at least you can people watch while you're waiting and listen to the tourist commentary for an added bit of education - watch your wallet in crowded places, though, including the notorious pickpocket-friendly 64 bus from Termini to the Vatican. But you don't have to be super-fit to walk round the major sights - in fact, simply wandering where your feet take you is the best way to fall upon lesser-known statues, churches and fountains, equally beautiful and certainly less crowded than the city's more famous attractions.

Or take advantage of the hop-on, hop-off tourist buses that circle all the best bits, including the Vatican.

And if you get footsore, there's always a handy café in which to take a seat and watch the Romans going around their business. But remember, as with all capital cities, you will pay for the privilege.