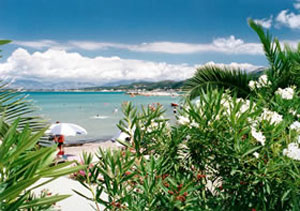 There is 500 yds of narrow sandy beach directly in front of the centre, turning into a pebble beach towards Acharavi. The water is shallow for a long way and so calm it is almost lake-like, so safe for children.

During the daytime the beach has water sports other activities include walking and exploring local villages (by car or bike).

The nightlife is varied, a few small discos and a plethora of music bars open until the early hours.

There is a wide selection of tavernas and budget-style restaurants including Italian and Chinese.

Horse riding is available in Roda and the best time of day is usually the early evening. There are plenty of horses and sometimes up to 20 go out at a time.

Mount Pantokrator 2,970 feet above sea level is the highest point on the Island and well worth a visit. On a clear day you can see a good view of Corfu Town and Albania.

Corfu Town is a must to visit for the architecture as well as the many shops and churches. The Spianada runs between the Old Fortress and the town and is a popular place to walk. You can stroll or sit and have coffee or a snack along the Liston the arcaded terrace along the west side of the Spianada. This has a good view of the cricket pitch.