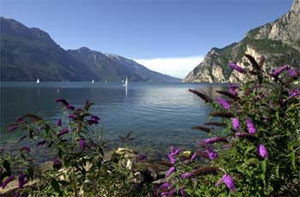 Visitor base is mid to upmarket singles/couples/groups of all ages resulting in numerous hotels of all ranges. Very limited accommodation is available in the old town. Many 3 star hotels gaining status through "extras" and not through attractiveness of property.

There are pebbled beaches on either side of town with water sports, walks, bikes for hire.

Evening entertainment consists of discos, piano bars and bars.

Daytimes offer the cable car, waterfalls and museum to visit.

Numerous pizzerias/restaurants scattered throughout the old and new town. A couple of local Trattorias exist.

Day trips bookable in the local area to Venice (long day); Florence (long day); Dolomites and Trento (one-day); Garda lake tour (one-day).