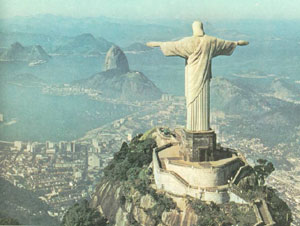 Rio has broad appeal suiting both younger and older couples and families. Not particularly suited to the singles market but the area does offer good nightlife. The main draw to the area is undoubtedly the weather, beaches and sightseeing from Rio's two main attractions: Sugar Loaf Mountain and the famous Statue of Christ on the top of the Corcovado mountain.

Popular attractions include:

Amsterdam Sauer Museum - On Ipanema's Diamond Row a block away from the Praca da Paz, this museum has a replica of a mine, and a variety of rough stones and gems in virtually every imaginable color.

Rua Garcia D' Avila, 105 - Ipanema

Botanical Gardens - More than 7,000 varieties of plants, herbarium, aquarium and a library are at these gardens founded in 1908. Bird-watchers are advised to show up early morning since 140 species have been spotted including flycatchers and tanagers, plus the American hawk. The 1992 Earth Summit spurred many improvements including a new Orquidario, an enlarged bookshop.
Near the Parque Laje at R. Jardim Botanico 414.

Carnival and Carnival Museum - On the Friday before Shrove Tuesday, the mayor of Rio symbolically hands over city keys to King Momo, signifying start of an incomparable five-day party. Special bandstands throughout the city are built for parade viewing. Far from being a mere tourist attraction, the Carnival parade is a culmination of intense activity by community groups. To understand different facets of the parade, the small carnival museum in the Sambodromo has photographs and an informative Engish-speaking staff.

Copacabana, Ipanema and other Beaches - With more than 50 miles of beach shoreline, famed beaches such as Copacabana and Ipanema are far more than tourist magnets, serving as an integral port of local life as playgrounds, gyms, and places to meet, eat, drink and make merry. Framed with black and white mosaic sidewalks and lined with kiosks, Copacabana is a hot spot day and night with lifeguard posts, public showers, hotels, bars and open-air restaurants. Ipanema with its elite shops and restaurants, while more subdued, are a bit more sophisticated. Leblon is also popular and Barra beach, the city's largest and favored by the younger crowd, is known for surfing and windsurfing.

Corcovado and the Statue of Christ - Atop Corcovado mountain, at 2,330 feet, the Statue of Christ the Redeemer ranks among the world's best known and most-visited monuments. Access starts in the Cosme Vehlo District, aboard a miniature train running through the steep Atlantic Rainforest up to the foot of the statue. The train ride provides stunning glimpses of Rio from assorted angles. A road also stretches up to the summit. The Statue, faced with a soapstone mosaic in art nouveau style, is reached via steep steps. The climb is worth it, with the view of Tijuca National Park spreading out below nothing short of spectacular. Corcovado is open daily from 9 a.m. to 6 p.m.

Culinary Sensations - The Cariocas take food quite seriously, with taste temptations on every corner, from juice bars (a Rio trademark) to sophisticated dining enclaves. In fact, the great melting pot of the Brazilian culinary heritage finds its broadest expression in Rio, where restaurants offer not only traditional Brazilian fare, but also excellent French, Italian, Japanese and Indian dishes. Amazonia's wealth of fresh water fish including pirarucu, surubim and tucunare - familiar on menus throughout Brazil -- are now showing up at the once all-meat barbecue houses. From the northeast region come such historic Portuguese dishes as Sopa Leao Velso (a knife and fork fish stew) and moquecas (spicy fish stews). Bahian food was strongly influenced by slaves from the African coast in the 17th, 18th, and 19th centuries and includes acaraje (dried shrimp and bean fritters), moqueca de siri mole (soft-shell crab stew) and bob d de camarao (shrimp casserole). Two Bahian desserts widely favored are cocada (a sweet coconut confection) and quindim (sticky coconut cupcakes), and ice creams and sorbets are another delight in tropical flavors such a guava, cupuacu and mango. Rio de Janeiro was originally responsible for the feijoada (black bean cassoulet), a "Saturday" dish now served virtually any day all over Brazil. Rice, stir-fried kale, farofa and thinly sliced oranges are its accompaniments. From the south, comes churrasco (or barbecue), an assortment of spit-roasted meat - alligator and wild boar have joined more traditional beef, pork, chicken and sausages -- complemented by salads and side dishes. Budget-minded adventurers may want to investigate the kilo restaurants, offering salad buffets, hot and cold dishes and assorted desserts.

H. Stern Gem Museum - One big sparkling attraction for gem lovers is the gem museum at the world headquarters for H. Stern. Workshop tours showcase intricate steps in transforming a rough gemstone into a gorgeous jewel. The museum, visited on request, features Mr. Stern's private collection of tourmalines and a variety of other gemstones. Free tours can be arranged by hotel concierges or H. Stern representatives in hotels.

Maracana Stadium - One of the world's largest sports stadiums, this football arena has seating for 200,000, and attendance (even for non football fans) is worthwhile for the samba bands. Guided tours (in Portuguese) are offered of grounds and the museum.

Museo Carmen Miranda - On display are a collection of gowns and head-pieces for the diminutive Brazilian songstress Carmen Miranda who was oft criticized by Brazilians for having become too "Americanized." Her first major appearance in her famed baiana costume was in the 1939 movie Banana Terra, and from 1940 to 1953 she starred in 14 Hollywood productions.The entertainer who said all she needed to be happy was "a good bowl of soup and the freedom to sing" died of a heart attack at age 46 after collapsing on stage during a live Jimmy Durante show. She is buried at Cemiterio Sa Joao Batista in the Botafogo.

Museo de Arte Moderna - A disastrous fire struck this spectacular building in 1978, forcing need for rebuilding the museum's collection, and several countries have donated to the cause. Exhibits include contemporary Brazilian works by Candido Portinari from the 1940s and 1950s, along with drawings and etchings by Gregorio Gruber.

Museum of the Indian - Dedicated to native Brazilians, their art and culture, this museum showcases, pottery, wood, straw and feathers used by tribes from throughout the sprawling country.
Rua das Palmeiras, 55, Botafogo.

Museum of the Republic - This was the Brazilian "White House" where presidents worked when Rio de Janeiro was the country's capital. Now it encompases exhibitions, music, theater, cinema, video, a bookshop, and a restaurant. This is the first Latin American museum with an automated reference desk, giving access to more than 20,000 books and 80,000 documents.
Rua do Catete, 153

National War Monument - Saluting Brazil's dead from World War II, this memorial takes the form of two columns supporting a slightly curved slab representing two palms uplifted to heaven. Remains of Brazilian soldiers killed in Italy in 1944-45 are in the crypt, open Tuesdays through Sundays. Beach attire including rubber-thonged sandals are not permitted.
At the city end of the park, opposite Praca Paris.

Sambodromo - A center for Carnival activity, Sambodromo seats 60,000 and handles sporting events, conferences and concerts the rest of the year. The best boxes, reserved for tourists and VIPs, have seats closest to the parade.
R. Marques de Sapucari, Cidade Nova.

Shopping Rio - SAARA, the largest ethnic market in downtown Rio, dazzles with knockdown prices for clothing and exotic foodstuffs. Shopping malls are excellent for comfort and safety. Big sales take place in January and August. Bargaining for discounts is often practiced, yet success generally occurs only in the smaller, owner-operated shops or in the markets. Rio is known the world over for beach wear, towels and other summer accessories. Precious stones, from amethyst and aquamarine to topaz and tourmaline can be good buys. Open air markets unfold at the end of the day on the Copacabana beachfront between Rual Miguel Lemos and Rua Djalma Ulrich and on Sundays at the Feirarte, known as the Hippie Market on Praca General Osorio in Ipanema. A thriving antiques trade extends from jewelry to furnishings and carpets.

Sporting Options - Popular Rio beach sports include volleyball, beach football, and frescobol (a form of tennis played with a solid wooden racket and a rubber ball). Football is the national sport with big games at Maracana stadium. Also big are golf, hang-gliding, parachuting, cycling, bowling, diving, squash, tennis, water-skiing and windsurfing.

Sugar Loaf - Without doubt, the most dramatic introduction to Rio is by sea, as Sugar Loaf Mountain comes into view for the many cruise ships calling. Once arrived at Sugar Loaf, the 887-foot belvedere is the only site for viewing the whole of Copacabana beach. Because the best time to visit Sugar Loaf is late afternoon or early evening, tours typically end here. The summit is reached by a two-step cable car. The first stage arrives at the Morro da Urca, at 550 feet, which has a restaurant, amphitheatre, and a good view of the Botafogo Bay and the Yacht Club. Stage two proceeds to Sugar Loaf itself, named for resemblance to loaves of sugar used by the Portuguese shortly after discovery. Sugar loaf is open daily from 8 a.m. to 10 p.m.