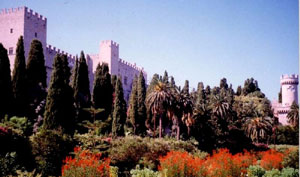 There are 2 main beaches, with plenty of snack bars, showers and toilets: the one on the West coast is coarse shingle, the other, on the tip of the headland, is sand and shingle. Sunbeds and sun umbrellas available for hire. Daytimes can be spent lazing on the beaches. Water sports include windsurfing, pedalloes, jet-skis and kite-skiing.

Exploring Old Town, including the Street of the Knights, Palace of the Grand Masters, various interesting churches and mosques and the archaeological museum; Mandraki Harbour, with its old windmills, fortress and lighthouse; sound and light show at the municipal gardens; climbing Monte Smith Hill to see the ancient acropolis, stadium and Temple of Apollo while taking in the views; Rodini Park and Tomb of Ptolemy, aquarium.

The nightlife offers a wide selection of bars in New Town, numbering more per square yard than the centre of London, discos and numerous nightclubs ranging from the cheap and tacky to moreupmarket bouzouki (offering traditional musical entertainment), there is a casino and the famous tour of Rhodes Town by night.

Many restaurants offering international, Greek, Italian and Chinese are present but also a lot of fast-food options. Small sandwich bars on every corner.

Full day excursions include the charming town of Lindos, with its ancient acropolis, island tours, boat trips to islands of Symi or Nissyros and to Marmaris in Turkey, scuba-diving excursion; water park at Faliraki (courtesy bus transfer from Mandraki Harbour).