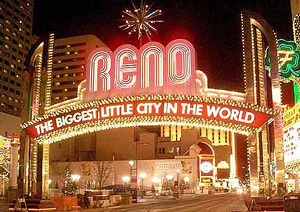 Popular attractions include:

National Bowling Stadium - This $43 million facility is the world's only bowling stadium of its kind, operates 80 championship lanes and is the site of major tournaments. A pro-shop and several restaurants make this a facility that can easily host conventions when not being used for tournaments. But the main attraction for visitors to Reno is the I-MAX theater and its regular venue of adventure films.

National Automobile Museum - The museum is in remembrance of the machine that has affected American society and industry more than anything else and includes a display of over 200 antique, classic, vintage and special interest automobiles in four galleries plus four authentic street scenes. Also housed at this site is the largest automotive library in the world (with limited public access). A state-of-the-art multi-media theatre presents the history of the automobile and helps explain its fascination and importance. Gift shop sells books and novelties.
Open Mon-Sat 9:30a-5:30p, Sun 10a-4p Closed Thanksgiving and Christmas.

Downtown Ice Rink - Open Wednesday, November 27, 2002 thru March 2, 2003 - weather permitting.

Wilbur D. May Arboretum & Great Basin Adventure - Adventure Area which includes a museum, arboretum and a kiddies' fun park. The museum has exhibits on May's life, including stuff he picked up on his world travels, as well as a bunch of animals he shot during his time on earth. If you don't mind a spot of taxidermy and you like your museums eclectic, it can be a fun spot. The nearby arboretum has outdoor gardens featuring Great Basin desert plants and an indoor tropical garden. The children's fun park has a log ride and a petting zoo.

Great Reno Balloon Race - The Great Reno Balloon Race at Rancho San Rafael-- Rides available at the event. Passenger flying is available by sponsoring a balloon for the weekend. Sponsorship costs are reasonable and along the scale of what private balloon rides offer. The event is always the first weekend after Labor Day.

Fleischmann Planetarium - North of the University of Nevada on N. Virginia St the planetarium features shows & events in the night skies. Daily entertaining & informative films & star shows as well as telescope viewing weekly. Don't miss the out-of-sight gift shop with such fun things as glow in the dark constellation maps, astronaut freeze-dried foods & much, much more!

Reno Tahoe Gaming Academy - Learn to play blackjack, craps, roulette & baccarat. Behind the Scene Gaming Tour.

Oxbow Nature Study Area - Nature walks, bird watching areas & nature observation platforms.

Fun Quest - Children's amusement park

Idlewild Park - Where family fun never stops!!! Including barbecue pits, swimming, fishing, a beautiful rose garden, wedding garden, & much more. For the children there is an amusement park including Merry-go-Round, Flying Planes, Roller Coaster, Tilt-a-Whirl & famous train. Rides open daily: May thru Labor Day 11:00AM - 6:00PM. Sept. thru May - Sat., Sun, & holidays, weather permitting. Great for birthday, groups, etc. Discount group rates available. Open since 1962.

Virginia Lake - A nice place to take a break from all of the excitement. A nice walk around the lake.

Total Sports - 94,000 sf. sports complex. Olympic size ice rink, 2 artificial turf soccer fields, In-line skate rink.

Sierra Safari Zoo - The largest zoo in Nevada, Sierra Safari Zoo currently has over 150 animals of 40+ species. New gift shop is now open to the public. Also available for public use are a scenic picnic area and a pleasant covered patio. The picnic area is available after normal hours for private parties and includes full access to the zoo.

Galena Creek Park - 440-acre park nestled in the forest with Galena Creek flowing through. Hiking, self guided nature trails, picnic areas and a group picnic facility. Family programs are held in Campfire Meadows at the north end of the park.

Animal Ark - A wildlife sanctuary located in the juniper-covered hills north of Reno, Animal Ark exists to "provide permanent care in captivity to animals that cannot be returned to the wild...," but their mission goes well beyond this. The Ark is "dedicated to inspiring our community by providing a window into nature".