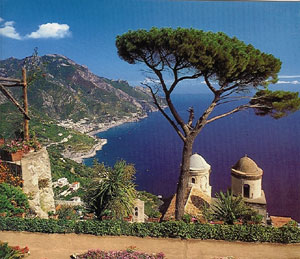 There are no beaches in the immediate vicinity. The nearest beaches can be found in Amalfi or Minori. Daytime offers a choice of Roman and medieval remains in the shape of stone arches, cloisters and churches.

There are several attractive formal gardens for botanical lovers. Beautiful, abundant panoramas for artists and photographers. Hitch-hikers can take ambitious walks on the old footpaths and steps which until the 1900s were the only links between villages and down to the coastal towns.

Night time is generally low-key, limited to hotel entertainments or sitting in cafes and the odd bar. Chamber-music/concerts appear at Villa Rufolo from March to October. There are roughly half-a-dozen small restaurants and pizzerias around the main square and a couple in the side streets.

The majoriy food is typical pasta dishes, local smoked ham, anchovies, fish, seafood, grilled local cheese and local wines. There are no organised programmes, but visitors are within easy reach of several larger resorts such as Sorrento (for boats to Capri and Ischia), Amalfi and Maiori.