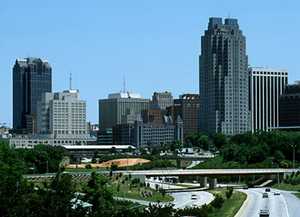 Raleigh is a very open and welcoming city, with many areas of parkland along with a number of historical sites to explore. In Oakwood for example there is a lovely Victorian area that even has houses open to the public showing what life was like in those times. There are also the cultural centres that are free of charge to visitors and are definitely worth a visit - the Museums of Art, National Sciences and History.

Shopping in Raleigh - Raleigh is the home of the Mall or at least that's how it appears. With the heart of the city retaining a lot of its heritage it has been left to the Malls to offer the diversity of retail options that a thriving city such as this demands. Crabtree Valley Mall for example has over 200 retailers, and this is not the only one in the area.

Sports in Raleigh - Professional sports in Raleigh are somewhat limited, although the College scene is a thriving one with the Universities all having strong teams in the main US sports of American Football and basketball. At a more recreational level though sport is tremendously popular here, with many leagues active in a diversity of sports.