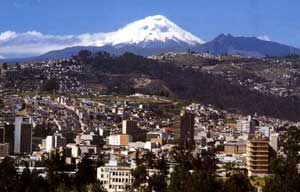 Quito, the capital of Ecuador , has many attractions for all kinds of visitors. The Andean City, at an altitude of 2850 metres, is located in a valley at the foot of the active volcano Pichincha. Although Quito lies only 13 km south of the equator, it always has a springlike climate.

Visit Quito's old city (El Centro historico), which has been declared a world cultural heritage site by UNESCO. Old Quito has many colonial buildings and a huge market with a lot of hustle and bustle. Go north and you end up in the new centre (La Mariscal), where tourists will find most hotels, restaurants, travel agencies and nightlife.

As a capital city befits, Quito has a wide variety of hotels and hostels (in Spanish also called hospedaje or hosteria). Most hotels can be found in the new city centre. The area around the Amazonas/Colon-junction, which is called La Mariscal, is the place where most foreigners hang out, since it also has many restaurants, internet cafes, travel agencies and bars. For this reason La Mariscal has 'Gringolandia' as a nickname.

Quito has many first class hotels with luxury and business facilities. Many cheap hotels can be found in the old city, but many foreigners prefer to stay in La Mariscal for safety reasons. This area has also many hostels for the budget traveller. Expect to pay 3 or 4 dollars for a reasonably clean hostal with shared bath. Add a dollar or two for a private bath. Sometimes it is possible to negotiate a lower price if you're staying longer than a week.