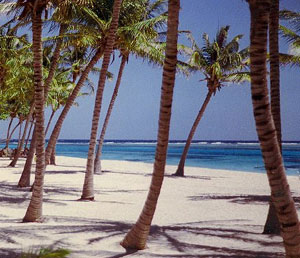 The area is suited to middle- to upmarket holidaymakers who do not mind being "confined to barracks".

Accommodation is widely scattered and often isolated all-inclusive hotels, most with a comprehensive range of in-house activities and facilities.

The beach here is popular and consists of 20 miles of fine white sand (often fringed with tall palm trees) protected by a coral reef that promotes safer bathing and water sports. Windsurfing, sailing and diving are particularly popular activities in this area.

During the daytime there are fantastic beaches, with water sports and plenty of organised hotel activities; such as swimming with dolphins. There is go-kartingand golf in the nearby Taino village;
The nightlife is lively,with unsophisticated hotel discos, shows and bars; and for the gambler there are a couple of hotels which have small casinos.

Eating out is restricted almost exclusively to the hotels. All-inclusive packages have curtailed any significant independent enterprise. Don't drink the tap water (brush your teeth with bottled water) and avoid salads or cold meats that are displayed without the benefit of chilling devices.

Full day excursions can be taken to the Saona and Catalina islands; East National Park hosts caves with pre-Columbian petroglyphs. boat trips along the Chavon River; helitours of E ast region and Santo Domingo is fantastic for sightseeing and shopping.