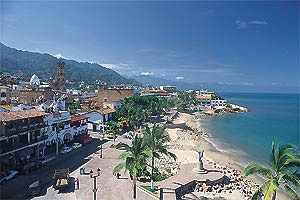 Puerto Vallarta is synonymous with fun! Visitors can choose from an abundance of activities, from excursions to secluded beaches, floating parties, scuba diving expeditions and romantic dinner cruises to hiking, biking, eco-tours, swimming with dolphins, whale watching and 4-wheeling.

How about parachute rides over Banderas Bay or a quick plane ride to a mountain village for lunch.

Puerto Vallarta is also known as an artists' mecca with its world-class galleries and organized evening art walks. There is always something exciting happening in this lovely tropical city.

Puerto Vallarta has long been a popular tourist destination. But with seven world-class golf courses now in play, its main attractions may no longer be sun-lit beaches and verdant mountains.

The nightlife around the the marina is very low-key, with a couple of restaurant-bars offering live music into the early hours a few nights a week. Ther is a disco, but mainly during peak season. The larger hotels often organise their own entertainment programmes. There is a modest selection of mid-range eateries, with a couple of establishments setting themselves up as the local quality options, but nothing really exclusive or gastronomic; fresh local fish, however, is literally delivered to the doorstep daily.