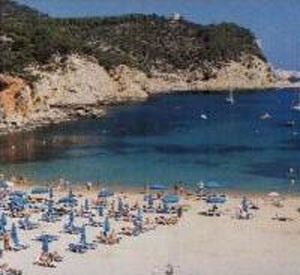 The area is suited for Middle- to economy-market families and couples; the exception is the Hotel Hacienda (5-star), which is decidedly upmarket. Too isolated for singles (not enough activity).

Although Puerto de San Miguel is not really a fully-fledged resort, there are some souvenir shops and a supermarket. Several bars and restaurants line the beach, including the Port Balansat - heralded by many as THE best fish restaurant on the island!

The beach here is very fine shingle that could almost pass for sand.

Daytime and evening activites offer little outside the hotel.

Local excursions consist of Island coach tour, boat trips to other resorts, Country Feast (Polynesian meal), Hillbilly Hoedown (Wild West Evening), glass-bottomed boats, hippie market at Es Cana, visit to casino with show, Aguamar Splashdown (water park visit); best caves on island within walking distance.