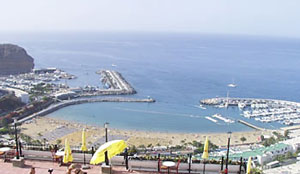 Puerto Rico is generally suited to families and couples with a preference for a compact, modern, purpose-built destination offering a good range of facilities and vibrant nightlife. Summer attracts younger crowds who are out to live it up and enjoy poolside parties, so don't expect too much sleep and peace in high season. Popular with British and northern Europeans. Those with prams or mobility problems might have difficulty with locations farther up the steep hillsides.

The beach here is a small, gently shelving, man-made cove with fine, light-coloured sand and clear water, packed with rows of loungers; can get crowded; suitable for children. Various water sports on offer. Larger, attractive man-made beach of Amadores, 1 ml NW along the coast, can also get quite crowded. Neither beach has lifeguards, buoys or warning flags.

Although there isn't any theme or amusement parks in Puerto Rico there are lots close by in the Souht of the island including; Palmitos Park which is a subtropical oasis and Zoo, Holiday World which is a leisure and amusement park and Mundo Aborigen Located overlooking the Barranco de Fataga, which is the biggest and most dramatic gorge on the island, The Mundo Aborigen is a reconstruction of an ancient Canary village devoted entirely to the Guanche way of life.

Other Tourist Attractions in Puerto Rico resort include the water sports including; Deep Sea Fishing - which is some of the best in the world proven by the some 50 world records which have been held from fishermen leaving the port! Sailing, Surfing, Body Boarding and windsurfing, and also Whale, Dolphin and glass bottom boat excursions like many of the other Resorts in Gran Canaria!

Golf is another tourist attraction, and the all year round weather of Gran Canaria brings golfers here. Although it is not only the weather but the prestigious international golf course designers that have designed the six exceptional courses here, and another four on the way! Also the price - it is value for money with green fares from as low as €50! There are three courses close to Puerto Rico, although with the island being small it allows you to be able to try them all!!!

But when visiting Puerto Rico, you should really go exploring the rest of Gran Canarias island you will see many spectacular views and scenery, in the mountains, forests, coastal and spectacular beaches or sand dunes! These are all easily accessible from Puerto Rico, whether you hire a car and explore in your own private group or perhaps take an excursion, which you can organise through a tour operator or it is easy to find a company that does this in the centre of the resort.

Local excursions consist of the same listed under Playa Del Ingles.