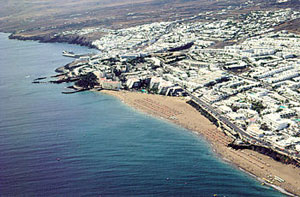 The area is suited to holidaymakers who like beaches, nightlife and bars in abundant supply and easily accessible. It's the island's biggest and most popular resort. Popular with teenagers, though not a "lager lout" resort.

Accommodation provide a strong bias towards apartments and self-catering, almost exclusively in the economy and middle range, with few good hotels. Strongly geared to package business.

A wide selection of shops and shopping centres, entertainment halls, restaurants and bars offers all sorts of possibilities for good buys and leisure activities, both during the day and at night. People of all nationalities and age-groups can be met here.
There are Commercial centres, spaced along the main road parallel with the coast, meet most day-to-day needs. There is at least 2 mls of continuous shops and restaurants. The Local linen and cotton tablecloths and ceramics are particularly good.

During the daytime popular activities include tennis, squash, water sports (especially windsurfing), deep-sea fishing, mountain biking. Various scuba-diving schools. Horse riding can be found just outside town.

The nightlife here offers discos, live music bars and cocktail bars. Puerto del Carmen is the undisputed holder of the "liveliest resort" title.

Local excursions consist of Cueva de los Verdes (Jameos del Agua), a memorable system of volcanic caves extending some 3 mls to the ocean; they are the home of blind albino crabs, usually found only at 600 ft below. One cavern is used as a restaurant and bar with evening entertainment and the occasional concert. Fire Mountain (Timanfaya), whose lava slopes and craters can be ascended by camel. Schooner trips to Papagayo beaches; these remote beaches are accessible by car but can also be explored by jeep. Mirador del Rio in the N is a famous viewing point from which the islands of Graciosa, Alegranza and Montaña Clara can be seen. Green lagoon (El Golfo). Sightseeing and shopping in Arrecife. Ferry to Fuerteventura from Playa Blanca, a day trip. Some pretty inland villages; Yaiza wins the "Best Kept in Spain" award year after year for its pristine white-painted houses. Cesar Manrique Foundation ? the famous architect's former home ? open daily. Sunday market in the old inland town of Teguise from 8am.