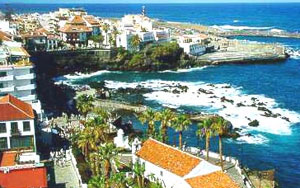 The area is of broad appeal, although the winter months attract more mature guests, especially from central Europe. The weather can be less consistent than in the S and the beaches do not compare. The combination of sun, sea and sights is, however, more balanced and only beach addicts need avoid it.

Accommodation here is more hotels than apartments. Most of them are in the middle range of quality and some of the 4-stars are not worthy of their rank. A few economy choices. Parking at and around hotels can be very congested and may frustrate those with hire cars.

There are 3 small, grim beaches of black volcanic sand which are not enough, a better one has now been installed to the west, at Punta Brava. Another option does exist: an excellent 8-acre lido with several vast seawater pools, spectacular rock torrents and fountains.

The shopping here is generally good. There is an Open-air market for hagglers; leather, ceramics, jewellery, crafts and local lace from local shops; the not-too-far capital of Santa Cruz for greater variety and bargain electrical and manufactured goods.

During the daytime visit the dolphinarium at Loro Park.

The nightlife here gives you the liveliest spot on the north coast and, while it is more restrained than Playa de las Americas, there is a rich selection of entertainments, although in winter this may not be as evident; a casino dominates the heights.

There is a huge choice of restaurants but these are mainly all British "pubs".

One of the greatest attractions of el Puerto is without doubt the Lago Martianez. This series of seawater pools conceived by the Canary artist Cesar Manrique forms an extraordinary spot for bathing and resting in the sun.

Harmonising his architecture with the exotic vegetation of the volcanic coast Cesar Manrique created his most beautiful project. Besides the Lago, Puerto de la Cruz has small beaches of volcanic sand, the best ones being Playa Jardin and Martianez.

On the outskirts of the city the botanical gardens and the Loro Park are a must for the nature lover. The botanical gardens founded in 1788 harbour an enormous number of trees and plants from every corner of the planet thanks to the bening climate of Tenerife. Loro Park is another tropical garden with the largest collection of parrots in the world, a parrot show and an excellent dolphinarium.