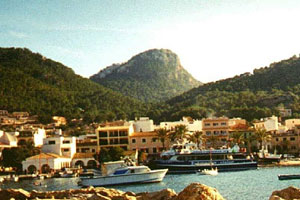 There are just a couple of tiny corners of sand, literally only a few yards long. However there is an excellent one at Camp de Mar (3 mls) which is broad, deep and gently shelving, with fine, light sand and equipped with pedalloes and the usual beach furniture.

All of the essentials are obtainable within the local area. On Wednesday there is a market in Andraitx.

During the daytime the main activities include water sports, walks and relaxing on the beach.

The nightlife here is poor, there is no formal provision, things can be found at the hotels.

There is a host of waterfront restaurants and cafes serving local dishes, with seafood pre-eminent. International cuisine, including a sushi bar.